Welcome to montymoose.com
Home of
(you guessed it!)
the Magnificent, Magnetic, but ever so Modest...
Monty Moose!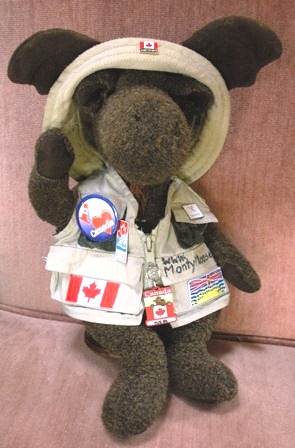 Hear about how Monty Moose started Globe Trotting
as the first "Traveling Stuffie" in Mrs. Boekhout's class!
Oh dear!
Monty is having to reorganize many of his photos
in a new program!
Hope to get things updated in 2021!

Monty's 2011 travels to Europe
(Sweden... and more!)

Monty's 2012 travels with Michael Bublé
(Here and there!)

Monty's 2011 travels to Scotland-part1! part2!
(Scotland)

Monty's 2011 travels to Africa!
(Uganda)

Monty's 2011 travels to India!
(Mombai)

Monty's 2010 travels to the continent of Africa!
(Egypt, Tanzania)

Monty wears PINK to END BULLYING!
(Coquitlam, BC, Canada)

Monty's 2006-07 travels in Canada
(Toronto, Niagara Falls, Canada)
Monty's 2005 Summer Vacation
(northern Italy, Paris, Amsterdam)


Amsterdam

Monty's 2005 Holiday
(Cape Town -South Africa, Argentina)


Monty's 2004 Holiday
(Japan, Ithaca N.Y., Cornell Lab of Ornithology)



Check out more Travelling Stuffie excitement
from previous years at the CanOz Connection website.
MontyMoose.com was first registered
as a domain name in 2004.
Monty Moose was officially "born" Dec. 5, 1996!