Out and About on the 'Net
There is SO much available on the Internet nowadays!
Sometimes it's fun just to "look around" at different websites, especially on a rainy day.
You might find a new idea to explore or an old interest to revitalize!



But don't forget... for most days it's best to:
turn OFF the computer and go do some real exploring OUTSIDE!!!

June 2012
full article - Barnacle News page 25
"Mini-Beasties in the Garden!"

As we prepare our Spring gardens for the lovely blooms and fruits of summer, the students naturally become excited. Oh, but it's not only about getting to plant stuff in dirt… just as often it's about the wonderful BUGS we find in the soil outside!
Earthworms… spiders… aphids… caterpillars… weevils… but ARE these really all BUGS??? The proper scientific answer is NO! There actually is a definition for "true bugs". True bugs have sucking mouthparts, and often feed on the sap of plants… making them a gardener's enemy #1! Aphids, scale, mealybugs, water striders, stink bugs, and hoppers are all in the "true bug" order, Hemiptera.

So which mini-beasties in our garden are the helpful ones? …
Some creatures can be a nuisance, but may have redeeming qualities. …
Which leaves us with the bone fide "enemies of the garden". …
Read the full article for more information!

Information about some common pests
http://www.cityfarmer.org/bugs.html

"mug photos" to identify pests
http://www.garden.org/pestlibrary/

send in your "mystery bug" photo and have it identified!
http://pestcontrolcanada.com/Questions/Pest%20Photos%201%20to%20100.htm

Steve Whysall's article on removing pests
http://blogs.vancouversun.com/2012/05/04/heres-a-better-way-to-fight-pests-and-diseases/

Steve Whysall – Van. Sun: Sat. May 5/12 "what's bugging you?"
http://www.vancouversun.com/technology/What+bugging/6572218/story.html

April 2012
full article - Barnacle News page 27
"April Fools' Day"

When did this "foolish day" begin? The most popular theory is that when France changed from the Julian calendar to the Gregorian calendar in the 1500s, New Year's Day was changed to January 1. The original New Year's was March 25, but because that fell in Holy Week, it was celebrated on April 1. (Does that utter confusion of dates seem enough tom-foolery for a fools' day to you???) Some people got confused about which was the proper date of New Year's (geez, didn't they get the memo?) and got called "fools" by those who had hopped on the "New Calendar train". The idea of jokes and pranks on April 1 subsequently spread throughout Europe.
Jokes and pranks are popular throughout the world, and an alternative origin of All Fools' Day may be that it simply grew out of various Spring festivals of renewal, which also often involved pranks.

Snopes
http://www.snopes.com/holidays/aprilfools/origins.asp

About.com
http://urbanlegends.about.com/od/holidays/p/april_fools_day.htm

April Fools (has a list of famous pranks)
http://www.april-fools.us/index.html
Museum of Hoaxes
http://www.museumofhoaxes.com/hoax/Hoaxipedia/April_Fools_Day_-_Origin/

March 2012
full article - Barnacle News page 23
"World Education Games"

It was back in 2009 when I first wrote about World Math Day. Originating in 2007, by 2008 there were 98 countries participating and 38,904,275 Math questions answered. Fast forward to 2011 where 235 Countries, 55,000 Schools, and 5.5 million Students participated! The "Day" has evolved into the "World Education Games" which last over 3 days and include competitions in Spelling, Math, and newly added this year, Science! UNICEF has become the designated sponsor, and while the games remain totally free, donations are accepted. The "School in a Box" project provides enough supplies for 80 students to "go to school".

In this exciting activity, students race one another to correctly answer age-level questions. Competitors are from all around the world, and the race is "live" !!! A map of the world shows their location, and the game shows their country's flag. As you madly type in your answers, you watch as the bar graph shows the number of correct answers growing. Watch out though… 3 strikes and you are eliminated from that game! (Note: The spelling games require headphones to hear the words. I kept wondering why I couldn't get anything right, until I realized I wasn't "hearing" the extra clues!!!) Another feature of the games is that stronger players gradually play against stronger opponents. This makes it more fair and more fun too!

"In World Maths Day and World Spelling Day, there will be 10 challenges at 5 difficulty levels. Students will be able to select the level of challenges at any time during the event up to the limit of 10 challenges per level. World Science Day has 3 difficulty levels (easy, medium, hard), and these levels are combined within each challenge." (from World Education Games.com)

Practice sessions began in February, but the actually competitions each last 48 hours. This is because each event begins when it is midnight in Apia, Samoa and ends when it is no longer that date anywhere in the world.

National Library of Virtual Manipulatives
There are lots of great online math activities here.
(You can play online, you don't have to download.)

http://nlvm.usu.edu/ A list of great math & science websites—"Virtual Teacher"
http://www.virtualteacher.com.au/maths.html
http://www.virtualteacher.com.au/science.html Spelling City.com—enter your own words or use theirs!
http://www.spellingcity.com Science– Directory of Educational Resources on the Web
http://www.alline.org/euro/escience.html

February 2012
full article - Barnacle News page 19
"Valentine's Traditions Around the World" Researchers at Rutgers University suggest that dopamine may be a central part of the romance of Valentine's Day! One study showed that subjects rejected in love had activity in the brain region associated with addiction. Short-term relationships showed activity in the brain region involving anxiety. Long-term relationships showed activity in the "calm" area. Hmmm… romance as a way to alleviate
anxiety… not very "romantic", I'd say!

Valentine's Day is celebrated on February 14 in many countries around the world. Some of the legends come from Roman times. The Feast of Lupercalia, in mid-February, had young girls and boys joined for a year. They often fell in love and married! Other legends tell that Emperor Claudius II banned all marriages to keep his men in the army. A romantic priest, Valentine, decided to arrange marriages in secret. He was sent to prison and then executed on Feb. 14.
Another Valentine legend has him imprisoned with children sending loving notes and flowers through the bars of the cell (hence the "Valentine's cards"). In 498 AD, Pope Gelasius declared that 14th February be celebrated as St Valentine's Day. Other reports, however, credit the importance of the English and French in the Middle Ages believing that birds sought their mates after Feb. 14. Whatever the origin, the sentiment of love is popular world-wide! For more information about Valentine's celebrations around the world, read the full article (link above).

December 2011
full article - Barnacle News pg 18
"Christmas Stockings"

Here in Canada, the tradition of Christmas Stockings can be clearly seen by the tremendous number of commercial
varieties available! (There are also many patterns for making your own.) There are similar traditions around the world. In Holland, the children put out wooden clogs; In Italy and France, they leave shoes by the fireplace; in Puerto Rico, flowers and greens are left in small boxes under their beds for the camels of the Three Kings.

What is the legend behind the Christmas stocking? One popular story involves a 4th century nobleman coming upon hard times and a preacher named Nicholas (or St. Nicholas traveling through the land) who secretly puts gold coins into washed stockings, hanging to dry, so that the nobleman's daughters could have dowries to get married. In more recent times, George Webber's 1869 story features a picture of stockings hanging by the fireplace by illustrator Thomas Nast. Who can forget "And the stockings were hung by the chimney with care" in "Twas the Night Before Christmas" by Clement Moore in 1823!

Other traditions associated with the Christmas stocking are finding an orange, which represents the bag of gold, an apple, which means you have been good, and black coal, which means you were naughty!

Wishing you ORANGES, APPLES, and a VERY MERRY CHRISTMAS!

A lovely slideshare on the history of the Christmas Stocking
http://www.slideshare.net/snowmaid/the-history-of-christmas-stockings-5685164


Ideas on what to put in stockings!
http://maryeaudet.hubpages.com/hub/Christmas-Stockings-History-and-Ideas


Free quilted stocking patterns (Lots from Martha Stewart!)
http://bomquilts.com/Free-Christmas-Stocking-Quilt-Patterns.php


Free stocking patterns (including a cute girlie cowboy boot!)
http://www.bellaonline.com/articles/art38705.asp


Free patterns: knitting, crochet, cross stitch, sewing, needlepoint
http://crafts.lovetoknow.com/wiki/Free_Christmas_Stocking_Patterns


If you don't know about Jacquie Lawson's gorgeous online advent calendars… check this out!
http://www.jacquielawson.com/gift-shop

November 2011
full article - Barnacle News pg 19
"Pumpkin Time"

Although Hallowe'en will be over by the time this article is read, pumpkin pies will continue to be enjoyed throughout the fall! It is such a popular food that it seems worthy of a little "post-ghost" attention.
Pumpkins are a member of the Cucurbita family, which includes squash and cucumbers. Botanically, they are a fruit because they are a fleshy plant with seeds that come from a flower. In culinary terms, however, people consider them to be a vegetable. The flowers are edible too! There are over 50 varieties and they are grown on every continent except Antarctica. The largest pumpkin grown (2011) weighed 1810 pounds and the largest pumpkin pie ever made (2010) had a 20 foot diameter. (Hope they had a lot of people over for dessert!)
The idea of carving pumpkins came from the Irish, who originally carved turnips.
What is a pumpkin's favourite sport? Squash!

Parts of the story "Pumpkin Circle"
http://www.informeddemocracy.com/pumpkin/slides.html

A delightful video clip from the DVD "Pumpkin Circle"
http://www.informeddemocracy.com/pumpkin/preview.html#movie

The Pumpkin Patch - a virtual tour!
http://www.liveoakcanyon.com/loc/pumpkins/Pumpkins.htm

Youtube video on growing giant pumpkins
http://www.youtube.com/watch?v=hJ4Z_RdgvgU

unusual pumpkin facts (and other information website)
http://www.pumpkin-patch.com/facts.html

CARVE your own pumpkin ONLINE!
http://www.onlinepumpkincarving.com/

http://www.spookathon.com/halloween/online-pumpkin-carving.php

October 2011
full article - Barnacle News pg 19
"Wattles, Caruncles and Snoods, Oh My!"

Yes, we are fast approaching that time again… and if you didn't recognize those words… think of Thanksgiving Dinner! The schools are about to launch into Turkey Art Time: turkeys made out of paper bags, turkeys made out of pine cones, painted turkeys, hand-tracer turkeys, turkey masks and head-dresses… you name it!

You can use the turkey as an introduction to simple anatomy and the use of labels and diagrams in non-fiction books. This idea came from EnchantedLearning.com, which is a great resource. A wattle is the bright red growth under the turkey's neck. The caruncle is the pinkish-red fleshy skin on the head and neck. A snood is the flap of skin that hangs over the bill. Male (and some female) turkeys have some long dark feathers on the chest which are called a beard. Male turkeys have a spike on the leg called a spur.

Petting zoos and pumpkin patch farms often have turkeys on display. A friend of mine in Toronto entices wild turkeys into her yard with simple bird seed. It is quite hilarious to see the "scout" carefully check out the general area, and then a "rafter of turkeys" (also called a "gang") come galloping down the hillside for "lunch". It was quite a different experience from watching the chickadees at my birdfeeder!

So... before you dig into that marvellous Thanksgiving feast, be sure to check out the turkey videos to see the "before picture"!

Enchanted Learning Resources|
http://www.enchantedlearning.com/

Turkey Club UK
http://www.turkeyclub.org.uk/?file=kop1.php

Wild Turkeys (info., turkey tracks, & a 'gobble' video!)
http://www.bear-tracker.com/turkey.html

Turkey as pets!
http://www.burkesbackyard.com.au/factsheets/Birds/Turkey-Roadtest/2625

Cat and wild turkey video
http://www.youtube.com/watch?v=uXSUcaT5jVE&feature=related

Wild turkey meets pet turkey video
http://www.youtube.com/watch?v=ScNLWuogqpI&feature=related

September 2011
full article - Barnacle News pg 19
"Turtle Talk"

The main difference between turtles and tortoises is that turtles live in the water and tortoises live on land. Turtles have a flatter, streamlined carapace (shell on their back) and webbed feet for swimming. Tortoises have a high domed, thicker carapace (for protection) and short sturdy legs. Both lay eggs on land, but a tortoise will take care of its babies for a short while. Turtles live about 20-40 years whereas tortoises may live over 150 years! (I couldn't find any native Canadian tortoises listed on the internet.)

The Western Painted Turtle (Chrysemys picta bellii) is the only native pond turtle left in BC. They are on the provincial blue list in the BC interior, which means they are considered vulnerable to human interference and loss of habitat. They are on the red list (threatened or endangered) on the BC Coast. They are named for the colourful yellow stripes on their head, tail and legs and the bright red on the plastron (shell covering the belly). They are omnivores, eating many aquatic plants as well as insects, frogs, and dead animal matter. They lay 6-18 eggs in June or July, and may travel 150m. away from the water. Females are known to cross roads. (Wow! Maybe the Drakes helped a tired 'mother' get back home to the water!)

The Red-Eared Slider (Trachemys scripta) closely resembles the Painted Turtle but has a distinctive red stripe on the sides of its head. It is an introduced species (mostly attributed to unthinking pet owners) and competes for the same foods as the Painted Turtle. It lays 4-23 eggs up to four times a year and is most likely a detriment to the natural balance in BC wetlands.

The Northern Pacific Pond turtle has not been seen in BC since 1959 and is considered extirpated (still in existence elsewhere). Marine turtles are occasionally seen on the coast. The Pacific Leatherback Sea Turtle is on the red list in BC. The Pacific Green Turtle has only been recorded 9 times.

The Reptiles of British Columbia
http://www.bcreptiles.ca/turtles/westernpaint.htm
BC Hydro
http://www.bchydro.com/about/our_commitment/compensation_programs/about_fwcp/wildlife/western_painted_turtle.html
Turtle Identification (Painted vs Slider)
http://www.hat.bc.ca/attachments/Turtle-IDGuide-May2008.pdf
SaltSpring Island Conservancy
http://www.saltspringconservancy.ca/western_painted_turtle.html
Ruby Lake Lagoon Nature Society (Sunshine Coast)
http://www.lagoonsociety.com/stewardship/turtles
Canadian Biodiversity Website
http://canadianbiodiversity.mcgill.ca/english/species/herps/testudines.htm
Totally Tortoise
http://www.totallytortoise.com/index.html

July 2011
full article - Barnacle News pg 17
"Summer Reading"

It's here...maybe not fully summer weather... but at least it's Summer Holidays! The Public Librarians have been hitting the schools non-stop with the Summer Reading Programs. (I mention with a bit of "pride" here... my school has won the Coquitlam summer reading challenge for 2 years in a row!)

This year, the librarians had an unexpected surprise for us! It seems that in 2009 a school from the USA approached the BLACK EYED PEAS pop group for permission to use their lively song "I Gotta Feeling" for a reading song! Wow! Talk about a wild way to get the kids hopping to read! Our Grade 1's and 2's performed the song for our year end ceremony.

For 2011, BC's unique Summer Reading Club promotes the deliciousness of reading!
"The public library is a place for kids and families to find the stories and information that will tickle their tastebuds, bring va-voom to their vocabularies and delight to their dreams as they savour each word all summer long. Summer Reading Club is very likely your library's biggest family literacy program each year so have a "literacy jam" this summer and spread the word. Yum!"

SummerRC 2011 Kids website: http://www.kidssrc.ca
BCLA (past) SRC Programs: http://src.bclibraries.ca/

Coquitlam Summer Reading Club & Book Events
Register anytime beginning June 1st at the City Centre or Poirier branch Information desks. We will ask you what school you attend, and the school with the highest percentage of registrants will be awarded a plaque in September."

http://www.library.coquitlam.bc.ca/programsandevents/Children/default.htm
Port Coquitlam Summer Reading
http://library.portmoody.ca/Kids+Site/Programs/Summer+Reading+Club+2004.htm
Fraser Valley Regional Libraries Summer Reading
http://www.fvrlnews.bc.ca/manage/archive/id/2609/k/26352e7922949f4f734bc54fadd81d22

Gotta Keep Reading
Peachland, CA, USA version
I Got A Feeling - Black Eyed Peas
Ocoee Middle School—original Gotta Keep Reading Dec. 2009
http://www.youtube.com/watch?v=GNpNfhpqDk4&NR=1
My favourite: Peachland USA June 2010 version
http://www.youtube.com/watch?v=nmrruNIYSJ4

May 2011
full article - Barnacle News pg 20
The Values of Home Security Systems or "Who's Got My Sausages?"
a silly but true story you can read online!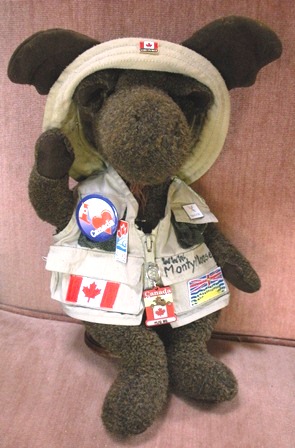 May 2011 - Moose on the Loose... to India!
full article - Barnacle News pg 19
~with special thanks to Auntie Rosemary of Belcarra ~
What excitement… I met another Belcarra friend who loves to travel! "Auntie Rosemary" invited me to go to India with her! Don't you wish YOU fit in a suitcase?
Our first stop was Hong Kong. Next stop (after a loooong ride) was INDIA. I have to tell you straight up that I am still pretty ticked at the officials at the Taj Mahal. Can you believe it... they confiscated me and stuffed me in a back room! What a disappointment! One of my favorite stops was the beach in Goa. I got to lay back in the sun and recuperate from all that travel time. In Vishnoi, we got to meet a family at their farm. You might be surprised to hear that the cow patties are odorless, burn without scorching, and the smoke repels mosquitos! They can also be packed on the outside walls of a house to insulate it for both summer heat and winter cold! Hmm… BEAR patties for us?
When we reached our final destination in Setrawa, at the Sambhali Trust Fund school, I could tell that Auntie R. was a little dismayed by some of the living conditions in India. As well as having a holiday, she was there to help at the Trust Center and to teach the girls how to make handbags to sell as a living. The girls had obviously never had a loving home like we are used to in Canada. They always seemed afraid that someone would hit them...isn't that sad. (I felt really sorry about that, and tried to give as many "moose hugs" as I could!) Auntie R. was very patient teaching them how to sew and quilt, but they had to undo a lot of stitches in the beginning! (I would have helped more, but my hooves aren't too good with needles and thread!) In the end, the girls had some beautiful handbags to sell, and when Aunty Rosemary and I left to come home, she had a new "mission"… to buy some more sewing machines for the center!
A BIG thank you to Auntie Rosemary for taking me on my India holiday! You might want to contact her if you want to DONATE to her "sewing project" in India!

Moose Tracks on the Internet
You can see some photos of our trip on my website.
http://www.teacherwebshelf.com/canozconnection/montymoose/gallery/11-india
SETRAWA PROJECT: "Our aim is to establish a free school for the local children in Setrawa Village and self sustainable art and craft program. "
http://www.sambhali-trust.org/projects/setrawa/index.html
April 2011
full article - Barnacle News pg 20
"Tomatosphere"
For nine years now, the Canadian Space Agency, the University of Guelph, Agriculture Canada, Heinz Foods, and Stokes Seeds have participated with over 12,000 schools in Canada and the USA to grow tomato seeds as part of a "Mission to Mars" study. Extended space travel will necessitate special considerations for life support in a limited area. Tomatoes can be transported as seeds and when grown, provide good nutrition, remove carbon dioxide exhaled by humans, return oxygen to the air, and even provide purified water through transpiration from the leaves! However, these seeds must be able to germinate in a space environment, as well as grow healthy, vigorous plants with an abundance of fruit.
In this "blind study", classrooms are sent one package of seeds as a control group and another as a treatment group. "In 2011 the treatment group of Tomatosphere seeds was subjected to a simulated space environment at the University of Guelph for a 3-month time period. The simulation approximates what might happen to the seeds if there was a breach in the storage system on a vehicle (with astronauts) going to Mars for the first time."
(Note: Twice in the past, however, the seeds actually were SENT UP to the SPACE STATION. Can you imagine how exciting it is to hold up a seed package and tell the class that it has REALLY been to OUTER SPACE!!!)
This year they suggested germinating the tomato seeds in HYDROPHILIC GEL SPHERES!!! I'm sure going to try it out with my class!
Read all about the Tomatosphere Project.
http://www.tomatosphere.org/
NASA spacewatch
http://spaceflight.nasa.gov/realdata/sightings/index.html
Growing with crystal pearls
http://www.ehow.com/how_6469955_plant-crystal-pearls-alternative-soil.html
Science for kids
http://www.stevespanglerscience.com/experiment/vanishing-jelly-marbles
http://www.stevespanglerscience.com/product/jelly-marbles-jar
Slippery spheres
http://www.dunecraft.com/products/slipperyspheres.htm
Weird Science: Some say these videos are fake and some say they are real…
hmmm! I'd be interested to hear if YOU try making your own spheres!
http://www.youtube.com/watch?v=0Vwl73H6cFU&NR=1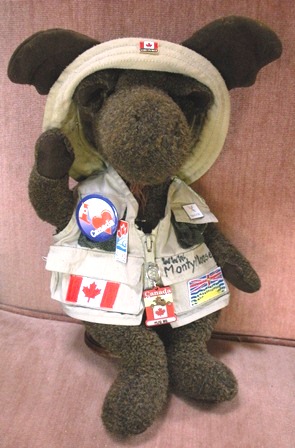 April 2011 - Moose on the Loose... to Tanzania!
full article - Barnacle News pg 19
~with special thanks to Auntie Mayling and Uncle John of Belcarra ~
Close your eyes and just let your imagination go…
You feel a slight dampness from the night evaporating into a thirsty heat. Before your eyelids even detect the first rays of light, your mind assimilates the growing sounds of foreign birds, animals, and buzzing insects. Your antlers start to tingle with…
...Oops! I'm guessing that you don't have antlers! So let me just start with saying that all of my "Moose Senses" were on high alert when we first stepped into the Safari Van in Mara, Kenya. The anticipation was HUGE, after visiting Nairobi. Kenyan Elephant Orphanage had been SO fun! On the plains of the Serengeti I got to see REAL lions, REAL zebras, hyenas, rhinos, giraffes, hippos, and many species of birds! I was also lucky to meet some of the Maasai people, who are SO intriguing and friendly. When I came home, I tried reading online about the Maasai traditions. It gave me many conflicting feelings… most of their traditions are tied into the necessities of their environment but others are disturbing. I was most touched by one website that cautions us to view our tourist photos with an eye to remembering that these are REAL people with ongoing real lives. That makes even a Stuffie get to thinking!
Moose Tracks on the Internet
You can see some photos of our trip on my website.
http://www.teacherwebshelf.com/canozconnection/montymoose/gallery/10-tanzania
Try to match 9 Serengeti sounds with the animals!
http://www.serengeti.org/main_game.html
The Sheldrick Wildlife Trust (note: some photos are quite sad)
http://www.sheldrickwildlifetrust.org/
A good website about the Maasi people is surprising difficult to find. This one "seems" to value both tradition & modernization.
http://www.maasai-association.org/welcome.html
March 2011
full article - Barnacle News pg 20
"Top o' the Mornin' to Ya"
On St. Patrick's Day, everyone can claim to be Irish! Now how is that for being inclusive! This March 17th holiday pays tribute to a Catholic priest who originally was taken as a slave boy to Ireland. He escaped and joined the church. Bishop Patrick returned to Ireland and was known for his gentle, kind ways. He is credited with bringing the written word to Ireland. March 17th marks the date of this beloved man's death in 461. Eventually, the Catholic Church declared him a saint. Some legends say that he used the 3-leafed shamrock (clover) in his religious teachings. Others say that he drove all the snakes out of Ireland. The creation of the Celtic cross (a cross with a circle in it) is also attributed to St. Patrick. There are now over 60 Irish churches named in his honour!
Read more about the symbols of Ireland
http://www.irishindeed.com/page.htm?PG=Ireland%20Stories
Read some short facts about Ireland and Irish symbols,
and maybe even look up some of the Irish clans in your family!
http://our-ireland.com/irish_clans/index.html
http://www.ireland-information.com/
St. Patrick's Day for kids
http://www.kiddyhouse.com/Holidays/StPat/
http://www.enchantedlearning.com/crafts/stpatrick/
http://holidays.kaboose.com/patrick-history.html
http://www.alphabet-soup.net/hol/sphist.html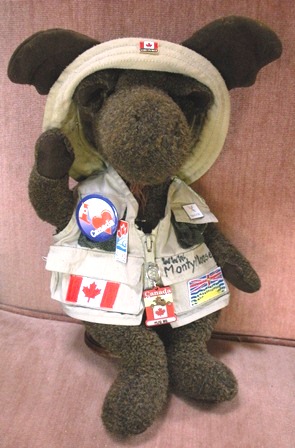 March 2011 - Moose on the Loose... to Egypt!
full article - Barnacle News pg 18
For just a little "background synopsis", I have been a working Grade 2 Classroom Stuffie since 1996. I recently discovered that I could actually put my true "age status" on my Facebook page! (Watch out if you try to connect with me, though, because there are several Monty Moose's about… in England, the USA, and maybe more!) At this point, I am a seasoned traveler (in suitcases, purses, mailing bags, packsacks, cars, trains, helicopters, cruise ships, and airline seats) and have been to 6 continents (can't find anyone going to Antarctica!) I was the original member of the website www.canozconnection.com, but eventually had to break out on my own with www.montymoose.com. After reading last month's Barnacle article, I can see that I really need to attend to updating my website! I am actually quite conversant on the Internet now and have hosted visits from my dear teacher friends from Australia, South Africa, and New York. (BTW, they all think Belcarra is absolutely MARVELOUS! …obviously!!!)
But I digress… I have been invited to tell you something about my exciting trip to Egypt with neighbours John and Mayling (now my honorary "Uncle John" and "Auntie Mayling"!)Thank goodness we went in the fall, before all those demonstrations and riots that are going on now!
You can the photos of my trip on my website. They include: Cairo, Aswan Dam, Kom Ombo temple, sailing on the Nile River, temple of Hatshepsut in the Valley of the Kings, the pyramids and the sphinx at Giza! Now that I am home, I am having fun learning about Egyptian Heiroglyphics... here's my name!



Moose Tracks on the Internet
You can see some photos of our trip on my website.
http://www.teacherwebshelf.com/canozconnection/montymoose/gallery/10-egypt
Type your name in hieroglyphs (and check the other links about Egypt too!)
http://www.eyelid.co.uk/e-name.htm
http://www.touregypt.net/ename/
A guide and web directory to Egyptian writing
http://www.isidore-of-seville.com/hieroglyphs/
Hieroglyphs
http://www.greatscott.com/hiero/index.html
An amusing activity where you invent your own "history of hieroglyphs"
http://www.neferchichi.com/ml_hieroglyphs.html
December 2010
full article - Barnacle News
"Dear Santa"
This is the time of year when thoughts of "Santa" often start to fill our little ones' heads! A popular activity at school is to use the traditional "letter to Santa" as a learning activity. It's a good time, for example, to find out if students actually know their own address! This also leads into a mini-lesson on the postal system. Writing a formal letter entails learning about the important parts: address, date, greeting/salutation, body/content, closing, signature. It's fun to add a "P.S." (post script) too.
Here are some fun "Santa Sites" to explore.
Claus.com
A "Santa's Village" full of activities (a Naughty or Nice meter!)
http://www.claus.com/village.php
Santa's Secret Village
Santa's hideout at the North Pole with lots of activities
http://www.northpole.com/Village.html
Canada Post has a Santa Site!
http://www1.canadapost.ca/dec/santa/
Email Santa
This site has lots more too... Santa blogs, photo album, webcams
http://www.emailsanta.com/
Read letters that have been sent TO Santa!
http://www.emailsanta.com/read_santa_letters.asp
Don't forget to track Santa's progress on Christmas Eve!
http://www.noradsanta.org/
October 2010
full article - Barnacle News pg 22
Leaf Patterns
I have to admit that on one morning in late summer, when the weather had turned a bit nippy, I felt an early burst of "Autumn Enthusiasm". As much as I love the summer, there is a distinct charge of energy that comes with the change of season. (Note: it's not quite as charming in soggy rain!)
Autumn leaves are a popular 'object d'art', as teachers frantically work to decorate their school halls for that first "Open House". The study of "Patterns" is another typical start-of-year topic, for Math. Putting the two together is a winning combination. Children love to explore local parks and their own backyards in search of patterns in nature.
After drawing or making rubbings of the lovely, intricate patterns of veins, it is always fun to press the leaves to
create fanciful pictures such as "Leaf Animals".
Leaves are intriguing to view with a "scientist's eye". Deciduous leaf margins have a variety of edges, with as many names, such as "entire, serrate, crenate, lobed, parted". They can be simple (one blade) or compound (with little leaflets). They can be pinnate (leaflets arranged in pairs on sides) or palmate (arranged outward like the palm of a hand). Veins can also be pinnate, palmate, parallel. Leaves can be attached in different ways too: alternate, opposite, whorled (three together), rosette (a circular arrangement). These are only a few of the amazing amount of patterns to discover, observe, and describe! Have a look in your own gardens, and you'll be amazed at Nature's intricate beauty!
The wonderful colours of fall leaves is another area to investigate. Leaf colour comes from pigments. Chlorophyll is the green, carotenoids are the yellow, orange, and brown, and anthocyanins are the reds and purple. During the summer, the green chlorophyll hides all the other colors. As the sunlight decreases, so does the making of chlorophyll. This allows the other hidden colours to show.
Autumn leaves… so simple, so complicated, so beautiful!
Descriptions of Leaf Anatomy
http://www.enchantedlearning.com/subjects/plants/leaf/
Leaf Morphology
http://path.wyk.edu.hk/leaf/leaf_f.htm
http://people.bridgewater.edu/~lhill/leafmorphology.htm
Great charts of leaf types
just google "images of leaf morphology"
Why leaves change colour
http://www.sciencemadesimple.com/leaves.html
http://www.na.fs.fed.us/fhp/pubs/leaves/leaves.shtm
http://dnr.wi.gov/org/caer/ce/eek/veg/trees/treestruecolor.htm
An interactive online introduction to colour and colour mixing
http://www.alifetimeofcolor.com/play/color1/color1.html
September 2010
full article - Barnacle News pg 18
School has gone to the Dogs ...No... the Dogs have gone to School!

As my 87 year old mother loves to comment, it's an uncommon sight to see someone walking in Belcarra without a dog. Like any proud parent, I think MY four-legged "child" is the best, and being a teacher, I figure that as well as being her charming and loveable self, she should also be "well educated"! At preschool, for both children and puppies alike, the goal is socialization and an introduction to a few good manners. Level 1 obedience training is kindergarten for dogs... they learn to sit, come, walk nicely, wait their turn, and maybe even listen on command to their owners. Time is allotted for "group play" too. Succeeding levels of obedience get more meaty (oh yes... instead of stickers and happy faces, a tasty treat is sure to get the students' attention.) Last year I decided to try out Agility Training for Keisha, our mini labradoodle. She is a natural jumper... why take stairs one at a time when you can leap into the air like SuperMan? (Originally the plan was just to buy her some jumping hurdles for Christmas but I soon found out that the equipment was pricey, even for Santa!) At Agility Training your dog has entered "real school", but there is no recess playtime and socializing is discouraged! Listening to our trainer call, "Focus! Focus!" to the dogs as they started off a new routine definitely reminded me of being in the classroom with a group of squiggly students. (Hmmm... when I see my new class gathered at the group carpet I'll bet I'll almost be able to imagine they are sitting on waggily tails!) The classes we attended were in a large horse training barn. It was fabulous in dry weather, but I must admit that Keisha needed a bath immediately after rainy day sessions. Initial training starts off with just basics, for example, wait until it's your turn,wait for your owner to say go, jump over a couple short hurdles, and then sit waiting expectantly for your goodie. Sounds simple, doesn't it ? (especially when your dog freely jumps over tables, tv trays, and fences!) Hmmm... those early training commands sometimes need a review! "Stay! No..... STAY!" Unfortunately, sometimes YOU end up having to do the jumps too! (Did I mention what good exercise this is for the dog owners as well???) Gradually new equipment, like cloth tunnels to run through, is added. The tunnels start off short then get longer or doubled. Eventually a bend gets added so the dogs cannot see the exit point. Did I mention that we laugh a lot at each other? Picture an owner pointing their dog into the entrance, running excitedly along side the tunnel calling "Tunnel! Tunnel!" and then looking into the exit to find that their dog has snuck out and run behind them! Other "SuperDog" equipment includes running up and down increasingly steep ramps, prancing along raised walkways, jumping through hoops (uhhhh...balk...balk... are you SURE this is safe?) and weaving between poles (Gee, Mom, it's WAY easier just to run beside them!) We get lots of turns to applaud a series of commands well executed as well as chuckle at realizing how WE must look and sound when our little furry friend does NOT wish to comply! Keisha's only real nemesis was the little, tiny bang that the teeter-totter makes when it moves just 5 inches at the practice level. That was it for her...surely this piece of equipment was waiting to gobble her up! Even the most favourite treats would not entice several of our class to brave this monster! So, how you decide if your dog is "Super Dog" material? Look for telltale signs of Sprong! Jump! Run! Jump! Sprong! An eagerness to please is a bonus. Caution though... your dog must be over a year old so that the growth plates are fully developed. Size isn't an issue... Keisha's classes included sizes from a long haired chihauhau to a full size Golden Doodle! Everyone had a fun time, and we all enjoyed watching the totally different personalities in action. If you would like an active and somewhat unusual way to escape reality with hyour dog, I highly recommend Agility Training. We took the summer holidays off, but we definitely plan on heading 'back to school' with all the kids in the fall!

Swift Dog Sports, in Maple Ridge, was the agility training we chose. There don't seem to be many nearby.
http://www.swiftdogsports.com/index.html
Here's a little video of our trainer's dog in competition
http://www.swiftdogsports.com/mydogs.html
I didn't see this website before... it has some interesting equipment.
Agility in a bag equipment set ($175 US plus shipping)
http://www.affordableagility.com/agilityinbag.
June 2010
full article - Barnacle News pg 18
Worm Composting
"Wiggly, squiggly, jiggly, do,
Be careful with your shovel or you'll cut him in two!"
As anyone who gardens with children knows, it's always exciting to find a worm! Did you realize that there are over 2,500 kinds of worms? In an acre of favourable land, there might be a million earthworms. The longest worm ever found was in South Africa and was 6.7 meters (22 ft)! One type of Australian worm is 3.7 meters (12 ft) long and weighs 680 grams (1.5 lbs)!
Worms are a very important part of our ecosystem! They eat organic matter, like plants, and decaying animals. They help bring air and water into the soil. The castings they leave behind are a valuable fertilizer. You can buy commercial worm composters or you can make one yourself out of a big plastic bin. You can find great directions for this at the "Adventures of Herman" website: http://urbanext.illinois.edu/worms/neighborhood/index.html I bought my bin at the "West Coast Women's Show" from http://www.compostculture.com/. (Yes, I did buy some "ladies' stuff too!).
This is my first year with a worm composter at school, and the class and I are quite enjoying it! We keep it right in the classroom and love to check under the apple cores for "worm parties"! We haven't harvested our nutritious soil yet, but we have been collecting "worm tea" to feed our classroom plants!
"He likes to eat dead leaves, he likes to take them out of sight, He takes them in his tunnel, that's his dinner tonight.
'cause he's an Earthworm! Earthworm!"
My favourite website has to be:
The Autobiography of Squirmin' Herman the Worm
http://urbanext.illinois.edu/worms/index.html
Worm Composting Canada
http://www.wormcomposting.ca/
Yucky Worm World
http://yucky.discovery.com/noflash/worm/
City Farmer Worm Glossary (really!!!)
http://www.cityfarmer.org/wormgloss82.html
Herman the Worm song. Illustrations by grade 4s
http://video.google.com/videoplay?docid=799932996794633719#
Just "google" worm composting and you will find LOTS
of little videos on how to do it!
May 2010
full article - Barnacle News pg 21
Bird Houses
Over the years I have received numerous bird houses as "teacher thank you" presents. While endearing and delightful, most are not really suitable habitats for nesting birds. Which begs the question… what DOES make a proper bird house?
Some components are common to all birdhouses. It should be weatherproof, sturdy, and well-ventilated with a sloped roof and drainage holes in the floor. There should be easy
access for annual cleaning. Other components are specific to the type of bird. Chickadees, titmice, bluebirds, nuthatches, and swallows are backyard birds likely to use a bird house. Starlings and house sparrows are known as predatory species to be avoided! Size of floor and walls, diameter of entry hole, height of placement, and general habitat area are all important. Clean untreated wood is the obvious, natural choice. Any decorative paints should be non-toxic and of inconspicuous colors. An outside perch is unnecessary and invites unwanted visitors. The bird house should not be set up until just before the breeding time, to avoid unwanted species moving in. Furthermore, the location should discourage predators such as raccoons, cats, squirrels and rats.
There are many websites to give directions on the actual specifications. Choose your desired species, determine the best location, and then… have fun building!
Royal BC Museum
http://www.royalbcmuseum.bc.ca/School_Programs/songbirds/activities/pdf/activity-5.pdf
Various designs plus specifications for different species
http://www.natureskills.com/how_to_build_a_bird_house.html
Backyard Bird Center (Newport Village) gives friendly advice!
Looking at commercial birdhouses can give some good ideas.
http://www.backyardbird.ca/birdhouses.html
Bird House designs for different species
http://www.life123.com/sports/bird-watching/bird-houses/bird-house-designs.shtml
A milk carton birdhouse for young children to make
http://www.ehow.com/how_4882487_build-birdhouse-kids.html
A video on building a bird house from 1 plank in one day!
http://www.5min.com/Video/How-to-Build-a-Birdhouse-12353
Driftwood Bay Birdhouses
So beautiful! (I received one for my birthday!)
http://www.driftwoodbay.com/
April 2010
full article - Barnacle News pg 22
Anti-Bullying Day
Pink Shirt (Anti-Bullying) Day is April 14/10. You may be aware of the occasion, but did you know it began in 2007, in Nova Scotia, Canada?
The International STAND UP to Bullying Day is actually a bi-annual event (February and November) with 25 countries participating. The official date is usually the last Wednesday in February, but it was postponed this year due to the Olympics being hosted in Canada.
Want to get involved with your own pink shirt? They cost $5, proceeds going to Boys and Girls Clubs, and will be available online or through sponsors such as London Drugs.
CBC News article
http://www.cbc.ca/canada/nova-scotia/story/2007/09/18/pink-tshirts-students.html
Pink Shirt Day
http://www.pinkshirtday.ca
Christy Clark website
http://www.christyclark.ca/pink-shirt-day/wearpink/
http://www.christyclark.ca/category/pink-shirt-day/
International STAND UP to Bullying Day
http://www.standupday.com/
Bullying.org - A fabulous Canadian, and international website, created in Feb. 2000 to promote "Where you are NOT alone".
http://www.bullying.org/
Pacer Center Kids Against Bullying
http://www.pacerkidsagainstbullying.org/
PS... Don't forget that April 22nd is EARTH DAY! Show your support!
http://www.earthday.ca
http://earthday.org
March 2010
full article - Barnacle News pg 22
World Math Day
World Math Day arrives on March 3rd this year, so if you haven't been practicing already, sign up ASAP! (It lasts 48 hours, because of time differences.) This year, PARENTS are invited to join too!!! Maybe they realized that too many parents were sneaking on their kids' accounts after bedtime!
You'll be surprised if you check back to my March 2009 post… this year we are trying to beat almost 2 million
students in 204 countries answering 452,681,681 right answers.
World Math Day website
http://www.worldmathday.com
Johnny's Math Page
http://jmathpage.com/JIMSNumberpage.html
Carole Saundry has some great math activities.
http://mindfull.wordpress.com/about/
A list of great math websites from the "Virtual Teacher"
http://www.virtualteacher.com.au/maths.html
February 2010
full article - Barnacle News pg 23
There is plenty of excitement about Olympics 2010 being in Vancouver and lots of great online information.
Here are some of the many links you will find interesting.
http://www.vancouver2010.com
http://www.olympic.ca/en/
http://www.olympicschool.ca
http://www.vancouversun.com/sports/2010wintergames/index.html
(note: Vancouver Sun link is often slow to open, but it's worth it.)

Meet the mascots
http://www.vancouver2010.com/mascot
Play some games with the mascots
http://www.vancouver2010.com/mascot/en/games.php
A clever little game including national flags, nutrition, exercise equipment, and then a race!
http://www.olympicschool.ca/default.aspx?PageID=1061&LangID=en

Vancouver Sun Posters outlining the Olympic sports
http://www.vancouversun.com/sports/2010wintergames/Deconstructing+Games+Collect+2010+events+pages+here/2405443/story.html
Check out the "Sport Explainers" on the right side of each sport, which show great animations explaining each Olympic sport
http://www.vancouversun.com/sports/2010wintergames/index.html
December 09
full article - Barnacle News pg 22
"Advent Calendars"
Kids Craft Weekly
http://www.kidscraftweekly.com/advent_challenge_issue.html
More ideas for filling your advent calendar with "things to do" http://jordanferney.blogspot.com/2007/11/advent-calendar-ideas.html
Here are some creative ideas for making a home advent calendar.
http://belladia.typepad.com/crafty_crow/2008/11/advent-calendar.html

There are SO many advent calendar ideas and online activities! Doing a search is quite overwhelming, but check these out:
Yahoo Advent calendars http://ca.dir.yahoo.com/Society_and_Culture/Religion_and_Spirituality/Faiths_and_Practices/Christianity/Holidays_and_Observances/Advent/Calendars/
Google images of different advent calendars
http://images.google.ca/images?hl=en&source=hp&q=advent+calendar&um=1&ie=UTF8&ei=tCkMS9DvHIj8tQOA0LmeAw&sa=X&oi=image_result_group&ct=title&resnum=5&ved=0CDIQsAQwBA
Surprise your friends (grandparents?) with a personalized Online Advent Calendar. Choose your photos, messages, the number of windows and the date and send it for free!

http://www.advientos.com/?gclid=CO3G85OCmp4CFShGagodAgtOmg
Billy Bear's Advent Calendar , for early learners, has a Christmas Surprise each day with free Clipart, Games to play online and a few to print... and PC Programs to download. http://www.billybear4kids.com/holidays/christmas/advent/2000/advent.html
The Cat Who Laughed is most unusual! Artist Penelope Schenk creates sequential picture-stories for her advent calendars... and her one-line captions have translations in French, Dutch, Italian and more! She has 11 previous calendars to enjoy as well.
http://www.catwholaughed.com/
Smile-a-day shows a new Christmas carol each day with the tune in midi music playing.
http://www.smile-a-day.com/advent-calendar.shtml
Woodlands School –UK Christmas around the world calendar.
http://www.woodlands-junior.kent.sch.uk/teacher/christmas.html#advent
St. Margaret Mary Advent Calendar - Follows the traditional custom of opening a new "door" each day, with a new image and verse from the Bible for reflection.
http://www.smmp.com/Advent/Advent.php
November 09
full article - Barnacle News pg 22
"Batty about Bats"
B.C. has about 17 species of bats, the most in Canada! All the species are protected by the provincial Wildlife Act. Some bats can live up to 30 years. They carry ticks and fleas like other mammals, but they groom themselves as often as a cat does. They can catch rabies, but they die quickly, and as a result no one in BC has ever contracted rabies from them. (Note: never touch any sick animal!) They provide a real service in helping to control the insect population; a single little brown bat may eat 600 insects an hour! Bats are nocturnal and use echolocation to capture their prey. They are not blind, and they do not get caught in people's hair, although they may seem to swoop over your head… in order to scoop up the insects that your body warmth is attracting!
When we begin a study of bats in the classroom, the students are always amazing that there are so many different species. While most eat insects, a few eat fish or meat and some even are fruit-eaters. Students are also surprised to hear that the vampire bat is actually very small (only 9cm long, weighing 2 oz.). It sneaks up on its victims by running along the ground, and it makes such a tiny cut that the animal doesn't even feel it. We are still happy to know they don't live here!
There are many wonderful books and websites devoted to bats. Be sure to look for "Merlin Tuttle", founder of Bat Conservation International, and fondly known as the true "Batman"!
Bat Patrol-with info. on Merlin Tuttle too
http://ngm.nationalgeographic.com/ngm/0204/feature7/online_extra.html
Bats4Kids
http://www.bats4kids.org/
Bats: Why Should You Care?
http://www.cccoe.k12.ca.us/bats/
Bat Conservation International
http://www.batcon.org/
October 09
full article - Barnacle News pg 19
"BTS... with the Douglas Squirrel"
In case you didn't know, the Douglas Squirrel (Tamiasciurus douglasii) is one of our B.C. native squirrels, living along the Pacific Coast. It has a reddish-brown or grayish-brown back, and a rusty orange underside. The
winter coat is grayer overall. They weigh 140g-310g and are about 33cm (including the tail). They live mainly in coniferous forests, building a nest in the tree. In winter they nest in tree holes or underground. The bulk of their diet is the seeds of coniferous trees. They are aggressive against the larger Eastern Grey Squirrels, (which can be gray or black). Those squirrels were introduced to Stanley Park in 1909 and are now very common. A very distinct feature of the Douglas Squirrel is its loud "chatter", which is almost bird-like and definitely reminiscent of "scolding"!

A great audio clip
http://www.bmn.bc.ca/gallery.aspx?gallery=Birds&photo=17-Douglas_Squirrel
General information
http://www.wildlifenorthamerica.com/Mammal/Douglas-Squirrel/Tamiasciurus/douglasii.html
General information, including tracks and audio
http://www.absoluteastronomy.com/topics/Douglas_Squirrel#encyclopedia

April 09
full article - Barnacle News pg 19
"Earth Day"
Earth Day in Canada is celebrated on April 22nd. It reminds us to appreciate the natural beauty of our world and to be mindful of the impact that humankind has on nature. At school we encourage our students to consider how even their smallest actions may have positive or negative consequences. Turning off the tap while brushing your teeth is as important as picking up garbage!
Earth Day actually has two observances. In 1969, at a UNESCO conference, peace activist John McConnell proposed a special day to foster worldwide participation in working for peace, justice and the care of the earth. The Spring Equinox (March 20-21) date was chosen for its meaning in many cultures. U. N. Secretary General U Thant, Margaret Mead, John Gardner and other concerned world leaders showed their support. The second Earth Day, founded by U.S. Senator Gaylord Nelson in 1970, was planned as an environmental "teach in". The date of April 22 was chosen as a "convenient date" which would maximize student and community participation. Twenty million Americans participated and it is now celebrated in 175 countries.

Earth Day Canada-April 22
http://www.earthday.ca/pub/index.php
Earth Day April 22
http://www.earthday.net/earthday2009
Earth Hour March 28
http://www.earthhour.org/home/
Earth Day March 20-21
http://www.earthsite.org/
The Care of the Earth by John McConnell
http://www.earthsite.org/77.htm
Celebrate the beauty of SPRING with the eagle webcams!!!
http://www.hancockwildlife.org/
and other webcams too!
http://www.thewebbroadcastingcorporation.com/

March 09
full article - Barnacle News pg 18

"World Math Day" - March 4
There is an exciting online Math opportunity for students… but the "big day" is March 4th, so check it out asap!!!
Students race one another to correctly answer age-level questions. Competitors are from all around the world, and the race is "live" !!! You see where your opponents are from, and as you madly type in your answers, you watch as the bar graph shows the number of correct answers growing. Watch out though… 3 strikes and you are eliminated from that game!
The idea behind this Math competition began in 2007 with students around the world breaking a world record by
answering 10,000,000 questions in 48 hours! World Math Day was born, and in the next round, 287,000 students from 98 countries participated and they correctly answered 38,904,275 questions. The competition is 48 hours because it lasts as long as it is March 4 "somewhere in the world". (In my part of the world- Vancouver, BC, Canada, that's Tuesday March 3 at about 3 am right through Wednesday March 4).
Last year 1 million students from 150 countries and 20,000 schools answered 182,455,169 correct questions! Now that's great enthusiasm for Math! Practice sessions are as much fun as the actual competition, so check it out yourself!

World Math Day website
http://www.worldmathday.com
National Library of Virtual Manipulatives
There are lots of great online math activities here.
(You can play online, you don't have to download.)
http://nlvm.usu.edu/
Carole Saundry is a private consultant working with teachers around British Columbia (and beyond!) in the area of numeracy. Her blog has some great math activities.
http://mindfull.wordpress.com/about/
A list of great math websites from the "Virtual Teacher"
http://www.virtualteacher.com.au/maths.html

Feb. 09
full article - Barnacle News pg 17

"Snowflakes"

I must admit that the entrancement of a "White Christmas" is rather behind me (is it Spring yet?), but February often reserves a few last wintery blasts for us. With that in mind, a "Snow Science" unit is an interesting one for all ages. If you're lucky to have some free time when it's actually snowing, take a black piece of paper (which was kept cold in the freezer), a magnifying glass, and check out snowflakes yourself first hand!
The making of snowflakes is a lot more complex than one might realize. They are not just a special kind of frozen rain, they are actually made from water vapour. Different shapes and patterns in the flakes are created by the growing crystal "arms" encountering different temperatures within the cloud. The variations are almost infinite, which is why virtually no two snowflakes are identical. Most snowflakes are actually not perfectly symmetrical, although they sure do look like it! About 80 different types of snowflakes have been categorized, including such surprising shapes as needles, plates, columns, and capped columns!
There are several excellent websites to investigate, but one, called "Snowdays", involves making your own snowflake online and then posting it in a simulated sky. You get to see the snowflakes posted by other people all around the world! You can even do a search by name or location. With the count now reaching almost 8,000,000 it would seem that we aren't the only ones fascinated by snowflakes!

You can get excellent "snowflake information" from
http://www.snowcrystals.com
Beautiful photographs of snowflakes in galleries I, II, III
http://www.its.caltech.edu/~atomic/snowcrystals/photos/photos.htm
Step by step directions for a 6-sided cutout paper snowflake
http://highhopes.com/snowflakes.html
Snowdays- add your online snowflake
http://www.popularfront.com/snowdays/
Make your own snowflake and convert it to 3-D
http://www.zefrank.com/snowflake/
Dec. 08
"Traveling Buddies"

What do a moose, a beaver, a wolf, and a boy who is 1/2 inch thick have in common? In our classroom, the answer is: they are all part of the "Traveling Buddy" program!

If you haven't heard of this activity, it is a variation of the traditional "pen pal" exchange of letters. In this case, the students send a mascot, such as a stuffed teddy bear, to a class in another location. This little visitor is given the "royal treatment"! It participates in daily classroom activities, is shown around the school, taken to student homes, and invited to special events and field trips. (What an incentive for the reluctant reader… you get to read with a stuffie!) Photos are taken of the visitor enjoying new friends, journal entries are made, the children write letters and draw pictures, and the teacher organizes special extras such as stickers, books, local calendars and so on. The students at both ends of the exchange have the chance to compare their respective locations as well participate in other educational activities. After a set time, a tearful "good-bye party" is held, and the little mascot travels back home with a box of goodies for the class.
Every year my class is amazed to hear about how a little STUFFIE can become a world traveler, and it makes them even more enthusiastic to learn more about the world. We use this in our Social Studies, weather studies, animal
studies, and as an inspiration for reading, writing, and yes, even sometimes for "arithmetic"! This year Wilbur Wombat AND a Flat Stanley are visiting! There never seems to be enough time to keep up with the online photos, but check out my websites to get a taste of this wonderful activity!

The CanOz Connection-photos and more!
http://www.teacherwebshelf.com/canozconnection/
Monty Moose has his own website now!
http://www.montymoose.com
Flat Stanley- There is a world-wide following now!
http://www.flatstanley.com/
Suggestions for starting your own project!
http://www.teacherwebshelf.com/canozconnection/teacherideas.html

July 08
"Prevent mush-brain in just minutes a day!"

With all the cool rainy days we had in June, many parents are relieved to be able to just scoot the kiddos outside for the first days of summer holidays! Thinking ahead to September (good heavens!) , however, many parents would like to help their children keep up their hard-earned school skills. Teachers will also appreciate greeting new students who have not been on "mental shutdown" for two months!
So… what can keep those brain cells snapping along? Here are some ideas (from Owl Canadian Family).
* Sign up for educational summer camps. There are camps for every interest: computers, science, math, environment, mini-universities (SFU offers several options).
* Bake, garden, sew… and do MATH! Have a look at the Crazy4Math.com website for wonderful ways to see the world through "Math Coloured Glasses"
* Read, Read, Read! Join the local library summer reading program and look for special book talks. Take time to read WITH your child, checking for comprehension, or asking thought provoking questions as you go along.
* Explore the Internet! If your child has a question, don't supply the answer… say "Let's Google It and find out."
You can always trust that several interesting side topics will
appear along the way! Explore one of the fantastic new children's CDs-there are simulation worlds, brainteasers for logical solutions, machine contraptions to build, photo safaris and much more!
* Keep travel logs Add in maps, geography, money, local wildlife, costumes. Work on those writing skills-make an advertisement to show off the special features If you're not traveling, then make up a fantasy vacation or a "Nature Guide" to your own back yard!
* Play games! Games such as Monopoly, Scrabble, chess, Boggle work on mathematics, word skills, and problem-solving without even seeming like learning.
* Join an arts 'n crafts program or sign out an art project book at the library. Work together with your child to do the planning. Finish off the project with an "art show" for the family, or digital photos for the grandparents!
* Visit local museums, Science World, farmer's markets… but don't stop there… read up on your visit ahead of time on the Internet and then do some follow-up activities too!
Take the time to have some CREATIVE FUN
* Get creative with your suggestions and take the time to get those projects started by being part of the initial "supply gathering": Create a summer foods cookbook, design a line of summer clothing (make mini samples too), make your own bubble wands out of telephone wire, build a miniature fort and then make to-scale drawings of it, design summer stationery, use toothpicks and gumdrops to make a model, plan a theme movie night for some friends, decorate rocks, design summer kites, create a treasure map or board game!
National Geographic-kids' boredom busters
http://kids.nationalgeographic.com/
Free ideas to explore your child's creativity
http://www.creativekidsathome.com/summerkidsactivities.html
Summer fun for parents, kids, (and teachers)
http://www.fvsd.ab.ca/stm/end_of_the_year_and_summer_activ.htm
Ideas, a little reading and links to crafts
http://www.kidsturncentral.com/summer/summerfun.htm
Education World-links to Summer Reading Lists
http://www.educationworld.com/a_curr/curr244.shtml

June 08
"Gardening with Children"

Finally! The glorious weather demanded that I take my class out to our school garden areas to clean up weed-choked planters, do battle with the villainous Morning Glory, cheer on the earthworms, and explore the wonders of the miniature habitats. The children were SO excited when I handed out the garden gloves! By now everyone has had a turn being the weekly Classroom Horticulturist and has taken home a small coleus cutting, rooted at school. Our four gigantic Amaryllis have all gone to seed (of COURSE we didn't cut off the dying blooms!) The Mother's Day basil went home after we taste-tested our own dressing. Our Heinz Tomatosphere seeds (sent to us by the Canadian Space Agency) seem to be thriving under our grow lights. The sun and fresh air are begging us for outdoor activities!
Gardening with children can be a most enjoyable and educational activity. You might misconstrue it as a "garden disaster", so it's wise to plan ahead! I found an excellent website www.kidsgardening.org with a "Parent Primer" for getting started, but there are many others as well.
Kids gardening: helping young minds grow
(National Gardening Association)
http://www.kidsgardening.org/family.asp
Gardening with Children
Lots of great ideas, projects, and suggestions for parents
http://www.colostate.edu/Dept/CoopExt/4dmg/Children/children.htm
Earth Easy Gardening with Children
http://www.eartheasy.com/grow_gardening_children.htm
The Great Plant Escape
Online activity for Gr. 4-5 students involving plant science.
http://www.urbanext.uiuc.edu/gpe/tg/index.html
My First Garden
Online activities teaching Gr. 3-4 about the basics of gardening.
http://www.urbanext.uiuc.edu/firstgarden/
The Adventures of Herman the Worm
Here's where to find out about our favourite garden friend!
http://www.urbanext.uiuc.edu/worms/

May 08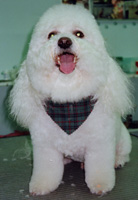 "Loving and Losing Your Pet"

This article is dedicated to the "best dog in the world",
our dear Dexter Dog, March 24 1993 to February 12, 2008.
The loss of a pet is the anguish of losing a family member. A Google search on the internet for "children +pets +death", yielded over 850,000 hits. There are so many of us trying to cope with this heartache but sharing of the grief is a big support.
Although there are common stages of mourning, they do not necessarily occur in any order. The simple act of talking about and through these feelings can be of immense benefit.
* Denial: Emotions can be overwhelming with the initial shock of the situation. This is actually a coping mechanism.
* Anger: As the pain intensifies, it is common to feel angry at everyone. Feelings of guilt may be intermingled.
* Bargaining: We try to think of any way we possibly could "try something new" or "promise to be better" in exchange for our loved one's health.
* Depression: Sadness and helplessness is one of the longest stages of mourning.
*Acceptance: With acceptance can come healing, and the ability to remember "the good times" with joy.
Children need time to mourn their pets in their own way, but parents should role model by sharing their feelings as well. If a pet is sick or dying, it is important to give the child time to say goodbye. Having a special ceremony, collecting
photos, drawing pictures, or writing stories are some positive ways to honour the memories. Immediately replacing a pet is not a good idea, as children feel you are trying to erase that special love for the old pet. Don't forget that other pets in the family will also feel the loss and the tension. Take time to give them extra TLC as well.
The age of the child will affect their reaction to the loss of a family pet. The most important point is to be honest and to use proper language. Do not tell the child that the pet has "run away", "gone to sleep", or "been taken by God". All these can cause confusion, and more distress in the long run. Help your children deal with the reality of death by working through the grief, not by burying it.
* Small children may not understand "death", but they will certainly feel the tension throughout the home. They will need reassurance that it is nothing they have done.
* Children around age 6 may worry that death might be contagious or that other family members will now die too. They may need to discuss their feelings many times.
* Older children may have trouble concentrating in school or have trouble sleeping. Try to keep to regular routines.
* Adolescents may keep their grief more private, like adults, but they are also experiencing deep emotions.
It is important to note that there are special considerations for seniors as well as for children. Seniors are all too aware of the passing of those around them. They keenly feel the loss of what may be their closest friend and so need a lot of extra support. Thoughts of a new pet are shadowed with the fact that it may well outlive them, and so special arrangements will have to be made.
… and so, it is a sad time around our house still.
Our little "urn" came home on Valentine's Day
… a fitting time for one so loved.
Some helpful books to read to your children:
The Tenth Good Thing about Barney by Judith Viorst
A boy remembers his funny, wonderful cat.
Jasper's Day by Marjorie Blain Parker
A family gives their dying dog a special day before euthanization.

Lifetimes: The Beautiful Way to Explain Death to Children
By Brian Mellonie- death shown as a part of the cycle of life
Good Bye Mousie by Robie H. Harris
for 3-5 year olds. A boy lovingly buries his pet in a special box.
Murphy and Kate by Ellen Howard
For 7-12 year olds. A girl and her dog of 14 years.
Information for this article was collected in part from the links below:
10 top children's picture books
http://childrensbooks.about.com/od/themesubjectbooksby/tp/petdeath.htm
American Academy of Child and Adolescent Psychiatry
http://www.aacap.org/cs/root/facts_for_families/when_a_pet_dies
Explaining Pet Loss to Children
http://www.griefhealing.com/article10.htm
Coping with the Loss of a Pet
http://www.homevet.com/bonding/loss.html
University of Florida-Veterinary Medical Center
http://www.ufvmc.com/childrenandloss.aspx

February 08
"February-Fast and Furious"
http://www.teacherwebshelf.com/holidaylinks/links/links-winter/links-winter.htm

It is quite amazing how the subdued back-to-school January activities start to gain momentum until they are rolling out at breakneck speeds. Frenetic February is what I would call it! Not all the celebrations are worthy of concentrated study, of course, but they still add their own flare to the curriculum.
GroundHog Day
February 2nd: The observation of Groundhog day is rooted in a very old English tradition of noting the weather on "Candlemas Day" (when clergy would bless and hand out candles). The Germans adapted this weather forecasting by bringing in the notion of watching to see if a hedgehog could see his shadow. Settlers in North America used this idea, but with a groundhog popping out his head to see his shadow (which would mean 6 more weeks of winter).

If Candlemas be fair and bright, Come, winter, have another flight.
If Candlemas brings cold and rain, Go, winter, and come not again.
GroundHog Day-Wiarton Willie & Punxsutawney Phil
http://www.southbrucepeninsula.com/index.cfm?member=willie
http://www.groundhog.org/
http://www.groundhogs.com/
Chinese New Year
February 7-Year 4706 of the Chinese Calendar
This year marks the Year of the Rat , one of the 12 animals of the Chinese Zodiac. The Chinese calendar follows the lunar cycle. The New Year activities begin on the darkest day and often last 15 days, until the moon is at its brightest.
http://members.aol.com/Donnclass/Chinalife.html
http://www.infoplease.com/spot/chinesenewyear1.html
Valentine's Day
February 14th-ahhh, the day of love and caring! History has several possible origins of this special day… The Romans, among others, had ancient celebrations related to spring and fertility. The Christians had at least two saints named Valentine. Early English records indicate that birds were thought to choose their mates on February 14.
Whatever the origin, however, it is a wonderful time to focus on kindness and caring, compliments and good will.
http://www.annieshomepage.com/valhistory.html
http://www.factmonster.com/spot/valentines-day.html
Canada Flag Day
February 15 is National Flag of Canada Day. It marks the day in 1965 when our red and white maple leaf flag was first raised over Parliament Hill in Ottawa, and indeed, hundreds of communities across Canada. This is a perfect opportunity to celebrate our flag and what it stands for - a country and a citizenship that are the envy of the world. (quote from Heritage Canada website)
http://www.pch.gc.ca/special/flag-drapeau/index_e.cfm
http://www.craigmarlatt.com/canada/index.html#home

100th Day of School
February 20th (at my particular school this year)
What a wonderful excuse to have a "100 Day Party", complete with many, MANY counting and math activities! This celebration has really grown over the years and elementary teachers have a grand time sneaking in oodles of math in the guise of celebrating 100 days of school!
http://users.aol.com/a100thday/ideas.html
http://www.siec.k12.in.us/west/proj/100th/act.htm
December 07
Christmas - Dec 25
One of my favourite seasons at school is Christmas! There is so excitement in the air... the first report cards have been distributed, holidays are on the horizon, and, with a bit of directed teaching, learning about the spirit of giving encourages sharing and caring throughout the classroom!
Learning about Christmas traditions around the world can be a great way to bring multi-cultural studies, geography, art, music, and language together. Instead of the popularized "chocolate advent calendar", every day in December my class learns something about a different country's Christmas tradition and decorates a tiny flag to adorn their personal "Christmas Advent Tree". By the holidays arrive, they have more than 20 "tidbits of learning" on their tree!
Some of the origins of traditions are fairly common knowledge… for example, do you know where the first "true" Christmas tree supposedly originated? (Germany) The first Christmas card? (England) The carol "Silent Night" ? (Austria) Traditions, such as who the "gift giver" is on Christmas, vary from country to country. (Please note that not all of the following information is 100% "factual"!) A "Santa Claus" type figure is very popular and has various names such as Sinterklaas (Netherlands), Heiliger Nikolaus (Austria), le pere noel (France). There are also some quite different gift givers though: Christkind is reportedly a sprite-like child (Germany), Strega Buffana is a good witch (Italy), and other countries have devils, angels, or elfs helping out! There are some interesting superstitions too, for instance, in Greece the Christmas table is lifted three times before eating, in Norway a rice pudding is left out for the barn elf, in Poland hay is put under the Christmas tablecloth.
There are many children's books available on "Christmas Around the World". (An internet search at Chapter's Books yielded 38 hits!) There are also many internet sites devoted to this topic, so if you can't find a particular country at one site, then do try some of the others. A fun way to get started exploring this topic is to try one of the Internet "Scavenger Hunts" I have listed.

So… enjoy the merriment of the season and do have a Merry Christmas and a Happy New Year!

Nollaig Shona Dhuit (Irish)
Nolllaig chridheil agus Bliadhna mhath ur! (Scots Gaelic)
Veseloho Vam Rizdva I Shchastlyvoho Novoho Roku!
(Ukranian)

Bill Egan's Christmas Around the World
Lots of countries and a quite lovely presentation of the info.
http://christmas-world.freeservers.com//index.html
Christmas Traditions Around the World (Santa's Net)
...lots of countries, some with a whole page of info.
http://www.santas.net/aroundtheworld.htm
Christmas Around the World (The-North-Pole)
...about 30 countries listed, varied amounts of info.
http://www.the-north-pole.com/around/
Christmas Around the World (Kaboose )
...includes some recipes
http://holidays.kaboose.com/xmas-around.html
How to say Merry Christmas in 350 languages!
... a little info on the languages included too
http://www.flw.com/merry.htm
Christmas Around the World
Internet Scavenger Hunt for kids!
http://www.henry.k12.ga.us/PGES/xmas_around.htm
B.C. School District #71 Christmas Links
more Internet Scavenger Hunts for kids!
http://sd71.bc.ca/Sd71/Edulinks/xmas/around.htm
http://sd71.bc.ca/Sd71/Edulinks/xmas/around2.htm
http://sd71.bc.ca/Sd71/Edulinks/xmas/around3.htm
http://sd71.bc.ca/Sd71/Edulinks/xmas/around4.htm

see the rest of my Christmas & other Winter links at:
http://www.teacherwebshelf.com/holidaylinks/links/links-winter/links-winter.htm

November 07
Canadian Remembrance Day - Nov. 11
Veterans' Week (November 5 to 11 in Canada) is a time for us to remember and show our respect for those who served Canada in times of war, military conflict and peace. As stated in the VAC website, "Taking part in remembrance events develops a deeper understanding of the sacrifices and achievements of those who have served and continue to serve our country."
We are so fortunate that the children in our classrooms here do not generally have first hand knowledge of war. The VAC website has many excellent resources, and last year added a "Kids Zone". One of the features is "Animal Heroes", a section devoted to highlighting the roles that animals have played in war efforts. There is even a photo is of John McCrae on his horse, Bonfire!
Listen to an audio clip of Charlotte Diamond's "Leave the world a little better"
http://www.charlottediamond.com/music/charlottes_world.htm
VAC - Kids Zone information including "Animal Heros"
http://www.vac-acc.gc.ca/youth/sub.cfm?source=activities/kidszone
2000 Memories - Jason and the Memory Box
http://user1291600.sites.myregisteredsite.com/library/id72.html
Created in 2001, The Memory Project is the Dominion Institute's flagship educational programme, designed to connect veterans and students online and in classrooms across the country.
http://www.thememoryproject.com/index.asp
The Memory Project Digital Archive, an online database that houses the oral histories and artifacts of more than 1000 Canadian veterans, complements the Speakers' Bureau.
http://www.thememoryproject.com/digital-archive/index.cfm
August 07
Ladybug Luck
I was enjoying my school's inner courtyard the other day (even summer holidays aren't safe from extra clean-up jobs at school!) when I felt a little tickle on my arm. It turned out to be a ladybug larva, which reminded me (once again!) how taking just a little extra time so often rewards one with a delightful surprise. I think every child can easily identify a ladybug (Eric Carle's book "The Grouchy Ladybug" is such a favourite!), but would you know what the eggs or larvae look like?
My first experience came from a student bringing in a leaf and telling me that she had ladybug eggs. I'd never seen them before, but I thought "there's one way to find out!" That was the start of my wonderful foray into raising ladybugs in the classroom!

Does a ladybug really signify "Good Luck"? Well, this gardener feels lucky to have them on watch!
Enchanted Learning has some good basic information for students.
http://www.enchantedlearning.com/subjects/insects/Ladybug.shtml
The Ladybug Lady has a first hand love of ladybugs and photos too!
http://www.ladybuglady.com/
This is a great classroom resource.
http://www.geocities.com/sseagraves/schoolyardscience.htm
There are great photos and a chart to aid in identification.
http://www.discoverlife.org/mp/20q?guide=Ladybug
Here are tons of ladybug links for the enthusiast!
http://webtech.kennesaw.edu/jcheek3/ladybugs.htm


May 07
Hummingbirds
The hummingbird is a well-known bird but many children only recognize the name from seeing a movie or animation. I promised my class that after Spring Break we would learn about hummers and even see them outside our window!
The most common hummingbird in our area is the Rufous Hummingbird. The males generally arrive first, and have rusty brown backs and flame red gorgets (neck feathers). The females (and young) have green backs. Males often exhibit an "O" or "J"-shaped display. Females build a nest with plant down and spiderwebs, decorated with lichens, mosses, and bark.
Allen's Hummingbird look very similar to the Rufous, but they have bronze-green backs. Males exhibit the "J" shaped flight, with a sharp explosive sound.
Anna's Hummingbird (common on Van. Island) is a husky, 4 inch bird which often stays within the general breeding range in both summer and winter. The males' crown and gorget are a rose-red.
Watch some wonderful video clips of hummingbirds
http://www7.nationalgeographic.com/ngm/0701/feature4/multimedia.html
Hummingbird Journey North (includes a great kids section!)
http://www.learner.org/jnorth/humm/index.html
A website dedicated to the conservation of hummingbirds
http://www.hummingbirdsociety.org/
A great source of information on hummers
http://www.hummingbirds.net/
Our local bird center
http://www.backyardbird.ca

April 07
Teacher "Fun Time"
Even teachers have a "fun side" when they get home... so this article is entitled: "B.C. HotRod is a Winner in Toronto"!
Warmer days are just around the corner, and chances are it won't be too long before you hear the sound of a few rumbling engines now and again. You may not have realized it, but there are many who have succumbed to the lure of owning a "Hotrod". These beautiful vehicles may take their lines from days gone past, but they are all modern when it comes to power and shine!
This year is the 75th anniversary of the 1932 Ford, and my husband and I decided to celebrate the completion of our 1932 3-window Ford coupe by having it transported to the prestigious "Performance World Car Show" in Toronto. This is the largest indoor car show in Canada! It was very exciting to be among so many cars. The years and makes were vastly different, but every one was polished to the nines!
"Peter's Coupe" showed off how great a B.C. contender can be, and we came home with 6 different awards! We really thought we would get the Long Distance Award too, but who would have guessed that someone from FRANCE would be there!

It was an exciting trip but it wasn't that hard to leave -16 degrees C and several feet of snow to come home to daffodils and crocuses! If you'd like to see more photos, check out www.peterscoupe.com !

March 07

Bird Watching
Sometimes all we need to enrich our lives is just to take the time to stop and look. If you haven't had taken the time lately to explore the world of our local birds, just think about this article as you take your next walk. If you already enjoy this pastime, think about sharing your knowledge! February 16 to 19th was the Great Backyard Bird Count… did you participate? Why not join eBird, it's a free online bird tracker!
Getting Started…
So… how does a "non birder" start to recognize different birds? Interesting birds can land in front of you and then disappear in seconds. Furthermore, the "bird book" is usually at home, not in your pocket!
Here are some tips for things to take note of.
Size: Think about the relative size compared to a common bird such as a sparrow, robin or crow
Colour: Notice the colour of the body, but also the head, breast, legs, beak if possible
Shape: Is it long and slender or plump? Is there a crest or tuft on the head? Is the tail forked or rounded? Is the beak thin or wide?
Field Marks: Look for eye stripes or eye rings, bars on the wings or tail
Movement: Is the flight path straight or wavy? Does it flick its tail?
Song: Can you notice any details of the song?
What if you'd like to attract just a few birds to your yard for fun? Containers can be made from recycled milk cartons and so on, but the easiest feeder is simply a large tree cone (pine cone, spruce cone etc) covered in a layer of peanut butter, rolled in bird seed, and hung from a tree. If you have peanut allergies, use 2 rounded Tbsp lard/Crisco mixed with 1 Tbsp molasses. Squirrels can be a nuisance, so try to hang the cone away from other branches. Remember as well… the month of May generally marks the return of the bears and they love bird feeders too!

Kids-print out a fact page on the chickadee and a picture to colour!
http://www.birdsource.org/gbbc/kids/images/bkcchi_coloringpage.pdf
Novice and experienced birders can both enjoy adding their bird sightings online to eBird
http://ebird.org/content/
Cornell University "All About Birds" has a wonderful online guide to birds
http://www.birds.cornell.edu/AllAboutBirds/BirdGuide/
Birding software-I highly recommend the Thayer "Birds of BC" program
http://www.onlinenaturemall.com/birdsoftware/

November 06 - Time to curl up with a good book!
Canadian Children's Book Week arrives!
If you live in the Northern Hemisphere, November is often a time when the weather begins to encourage more time spent indoors. The Canadian Children's Book Centre (CCBC) was founded in 1976 to promote, support and encourage the reading, writing and illustrating of Canadian books for children and teens. The TD Canadian Children's Book Week is an important bilingual, national event celebrating Canadian children's books and the importance of reading.
How about looking for some "award winning" books to round out your reading?
http://www.bookcentre.ca/awards/index.shtml
Perhaps you have a favourite Canadian author or illustrator. Maybe you wonder who the Canadian authors are!
http://www.bookcentre.ca/authors/author_pages.shtml
Did you even know that Book Week was coming?
http://www.bookweek.ca/
Links to November special events online: Canadian Remembrance Day & Children's Book Week
http://www.teacherwebshelf.com/holidaylinks/links/links-fall/links-fall.htm
October 06 - Fall arrives
It's hard to believe how fast we get back into school routines!
Ready, Set, Learn! Parents of preschoolers, however, may appreciate a little help getting started off on the right foot.
This booklet was designed to assist parents in helping their preschooler get ready for school by offering tips for supporting a child's learning in key areas of development. http://www.gov.bc.ca/bcgov/content/docs/@2R11d_0YQtuW/new_ready_set_learn.pdf
Links to October Holidays online: Thanksgiving and Hallowe'en
http://www.teacherwebshelf.com/holidaylinks/links/links-fall/links-fall.htm


September 06 - BTS time is here!
Whether you embrace it or try to ignore it, it's BTS time once again! Our brains have enjoyed relaxing in the blissful days of summer, so here are some websites to fire up the neurons and sharpen those skills!
For the preschoolers & Kindergarteners raring to go!
http://www.juliasrainbowcorner.com/html/funandgames.html
Easy activities with audio clues for alphabet letters, numbers, shapes, animals
http://www.starfall.com/n/magic/trick1/load.htm?f
Magic Hat Trick: silly words are introduced with rhymes and animations. Say the word, follow along, and then click on the hat to see what happens!
Primary level refreshers
http://www.primarygames.com/
Lots of games and activities in all curriculum areas from Language Arts to Math

http://www.starfall.com/
Primarily designed as learn-to-read online activities for first grade, it is also useful for pre-school, kindergarten and second grade.
http://www.theschoolbell.com/Links/math/number_families/main/games_online.html
This is a good site for Primary online math activities.
http://www.noggin.com/games/zoolane/storymaker/
Reluctant readers are enticed by participating in an interactive storymaker, where they create an audio-enhanced and animated story through selection.
Elementary and up
http://www.sadlier-oxford.com/phonics/student.cfm
Phonics and Word Study activities are clearly designated for PreK through sixth grade. The online learning games range from memory picture matching and alphabet practice, to long vowels and contractions, and a variety of challenges to hone spelling and reading skills.
http://www.coolmath4kids.com/
Cool Math 4 Kids is for "ages 13 to 100"…Lots of games and puzzles in math, and science too!

http://www.aplusmath.com/
A+ Math Play number skill games, test your skills with timers!, print your own flashcards

Take the challenge!
http://matti.usu.edu/nlvm/nav/vlibrary.html
National Library of Virtual Manipulatives for Interactive Mathematics
Wonderful online activities to teach mathematical concepts from K - 12.
http://www.teachersfirst.com/tchr-subj-date.cfm?subject=mindstretchers
For those who simply want a challenge… these are activities, puzzles, and logic-based sites designed to bolster higher-order thinking skills!
June 06 - Summer is here!|
Considerations for Online Summer Activities

A few pertinent internet safety points
http://www.geocities.com/rod_oickle/safeparents.html
Cyberbullying… what is it, and what can you do? Some important information:
http://www.cyberbullying.ca/
http://www.bullying.org/
CBC News Online…. Focus on Cyber-Bullying
http://www.cbc.ca/news/background/bullying/cyber_bullying.html
Safe blogging information for teens, parents, teachers, adult bloggers
http://www.blogsafety.com/
Podcasting in Education… find out about this new buzzword
http://chatt.hdsb.ca/~magps/boylit/Podcasting%20in%20Education

April/May 06 - Spring is here!|

April 17 is Easter Monday. The weekend is a great time to try out some different family crafts and activities.
Here's a wonderful website on the art of Psyanky, including directions!
http://www.learnpysanky.com/
Kate's "Eggs-ellent Easter" website has lots of information and fun crafts.
http://www.kate.net/holidays/easter/ltraditions.html
Celebrate Easter: crafts, recipes, traditions
http://www.celebrate-easter.com/
Earth Day… a time for the World to celebrate our planet! Be sure to get outside and enjoy our beautiful earth! See if there is something you can do this year to help!
On a different note… did you realize that there are TWO different dates and TWO different founders associated with "Earth Day"? While April 22nd is the date that most North Americans are familiar with, it seems that the rest of the world may not be in accord!
John McConnell, the founder of the first Earth Day "Nature's Day", March 21, 1970
http://www.themesh.com/jc2.html
The Official Earth Day site
http://www.earthsite.org/

Senator Gaylord Nelson, founder of the first Earth Day in America, April 22, 1970
http://earthday.wilderness.org/history/history.pdf
Earth Day Canada
http://www.earthday.ca/pub/home.php
February/March 06 - The last days of Winter!
February 2nd is Groundhog Day! 2006 marks the 50th anniversary of the Wiarton Willie Festival… and if you didn't know… that happens to be our Canadian Groundhog center! If you want more rodent rapture, then Education World has a veritable "Groundhog burrow" full of activities for you at http://www.educationworld.com/a_lesson/lesson048.shtml !
February 14th is Valentine's Day! Find out more about its history, symbols and explore some new recipes or poetry!
http://techdirect.com/valentine/index.html
100th Day of School! This will depend upon your school, but it should be sometime at the end of February or early March for elementary schools this year! Do you know when YOUR school celebrates?
http://users.aol.com/a100thday/
March 17th is St. Patrick's Day! Wear the green… and find out WHY… at http://theholidayspot.com/patrick/celebration.htm

September/October/05 - Ministry of Education & BCTF webpages... links for parents!
This month it seems important to provide some links with respect to the current BC teachers contract negotiations. On September 27 a limited job action begins, but the initial stage will not disrupt either students' learning nor the voluntary extra-curricular activities provided by teachers. All teachers hope that further action will be unnecessary. As the BCTF president, Jenny Sims, points out… "teachers are also mothers, fathers, and grandparents whose children are in the education system. Teachers are taking a stand for our students, our profession and for public education."
September 23 was a district-wide Professional Development Day for teachers, an important time for teachers to revitalize their enthusiasm for their own learning and staying on top of advances in educational methods. I include some links from the BC Ministry of Education website to highlight how far beyond the "three R's" modern education has come.

Ministry of Education Curriculum: http://www.bced.gov.bc.ca/irp/curric/
Ministry of Education IRPs Index Page: http://www.bced.gov.bc.ca/irp/irp.htm
Ministry of Education Performance Standards: The BC Performance Standards have been developed for voluntary use in BC schools. They describe the professional judgments of a significant number of BC educators about standards and expectations. http://www.bced.gov.bc.ca/perf_stands/
ICT: The Information Technology resource documents serve to assist schools and districts with requirements for school and district technology plans.
K-7 http://www.bced.gov.bc.ca/irp/resdocs/itk7.pdf
Grades 5-10: http://www.bced.gov.bc.ca/perf_stands/icti/

As a elementary teacher myself, I can speak to some of the deleterious changes I have seen in my own school over the past few years. In my opinion, the most serious of these is the reduction of specialty teachers. This includes resource room, learning assistance and ESL teachers, the teacher librarian, the music specialist and the Special Educational Assistants. In my school we haven't had a specialist for P.E. in years! I am seeing considerably more needy children in my classroom with each new year, and yet all these specialist times are being drastically reduced. There are so many children who could show wonderful gains from a little extra small group work or 1:1 time with a specialist, but I am told that we only have enough resource time for the neediest of children. Our school prides itself on an excellent "early intervention" program for behaviour concerns, but our resource room counselor can only juggle so many other duties. "Literacy" is a keynote for government advertising, and yet our teacher librarian divides her 3 days a week among 340 students. The SEAs who work with special needs children requiring 1:1 care have to take turns doubling up the children in order to get their much needed lunch breaks. These conditions all impact the students learning… from the bright, enthusiastic children who deserve teacher attention for advanced projects to the shy little quiet ones who can so easily disappear into the crowd. The supposed increased funding for students being reported by the government is an illusion created by their earlier disastrous cuts to educational services.

Why are B.C. teachers taking a strike vote?
http://www.bctf.ca/Bargain/negotiations2004/TeachersTakeAStand/WhyStrikeVote.html
Teacher-librarians are needed more than ever: The B.C. government has said it wants to "make B.C. the best educated, most literate jurisdiction on the continent." Teacher-librarians have a key role to play in our schools if we are to achieve a more literate population.
http://www.bctf.ca/NoteFromTeachers/Archive/2005-06/2005-09-20.html
What is inclusion? Inclusion is the philosophy that nearly every student should participate in all academic and social aspects of the school and, whenever possible, should be integrated into a regular classroom. The support the teacher needs in order to make inclusion effective for everyone may be an educational assistant, special resources, and/or help from a specialist teacher.
http://www.bctf.ca/publications/NoteFromTeachers/archive/2005-06/2005-09-19.html
Teachers are looking for a negotiated agreement: Teachers are determined to achieve improvements for their students and a fair and reasonable salary increase for themselves. Teachers want a negotiated settlement. Teachers are calling on the government to meet with the BCTF to develop a mutually agreed upon process that will lead to a negotiated settlement.
http://www.bctf.ca/publications/NoteFromTeachers/archive/2005-06/2005-09-14.html
July/August/05 - Summer Activities

Crazy 4 Math: This website encourages children to think mathematically and keep up their math skills during the summer. It promotes math as part of many family activities and provides a FREE list of great ideas for kids, families and teachers to access on the internet. There's even a contest... get your ideas/ poster/ photos in before July 15.
http://www.crazy4math.com
Scholastic Books - Summer Reading Counts: "Consider your child's favourite stories — perhaps old classics, or something new read during the past school year. Notice the themes that emerge, and plan a related trip. This is a fun way to support your child's curiosity about the subjects she loves most." This website gives some great ideas for bringing together books and summer activities! Also featured are articles for parents encouraging good readers.
http://www.scholastic.ca/summerreadingcounts/daytrips.htm

Gateway to the Summer Games: Learn about the Athens 2004 games. "The first Olympic Games were held in Greece more than two thousand years ago. When the Modern Games were revived in 1896, founder Pierre de Coubertin again chose Athens as the host city. In 2004, the games returned to their birthplace for a third time. Learn about the geography, history, people, and languages of Athens and Greece, or explore with Virtual Tours."
http://www2.edgate.com/summergames/
Review all the Olympic Games from 1896!
http://www.olympic.org/uk/games/index_uk.asp
HARRY POTTER: A much-anticipated Harry Potter sequel is on its way this summer. Get into the mood!
The official movie site of Harry Potter.
http://harrypotter.warnerbros.com/
The official JK Rowling site.
http://www.jkrowling.com/
The Harry Potter Lexicon: This site is a wealth of information about various subjects in the Harry Potter books.
http://www.hp-lexicon.org/
Spectrum website.
http://incwell.com/HarryPotter/RealFantasy.html
Scholastic Books website.
http://www.scholastic.com/harrypotter/home.asp
J.K.Rowling Teacher Resource File
http://falcon.jmu.edu/~ramseyil/rowling.htm

June/05 - Here's an eclectic assortment of diversions!
Are you tired of the Star Wars hype? Try this clever animated spoof with a message…
Organic vegetables have the power!!!
http://www.storewars.org/flash/index.html
Would you like some new paper-and-pencil games while waiting for summer to arrive?
Here are seventeen deceptively simple games that really stretch the brain.
http://www.cs.uidaho.edu/~casey931/conway/games.html
NASA's Future Flight Design website teaches kids all about flight concepts using a very interactive, Flash-based interface. Kids look for workable solutions to problem-based learning scenarios.
http://futureflight.arc.nasa.gov/map.html
Architect Studio 3D is an online interactive tool which allows users to design and build a virtual home, with the assistance of a virtual Frank Lloyd Wright!
http://www.architectstudio3D.org

May/ 05 - Let's look at some Science websites this time…
VIRTUAL BODY:
http://www.medtropolis.com/VBody.asp
Take a fascinating look inside all the many coordinated parts of the human body in this online exhibit. Interactive features let students control their online journey, learning more about key features as their interest dictates.
SCIENCE ANIMATIONS:
http://science.nhmccd.edu/biol/animatio.htm
This site has collected numerous interactive tutorials, animations, and movies on science topics across the board.
WHAT'S IT LIKE WHERE YOU LIVE:
http://mbgnet.mobot.org/
This site has information about Earth's biomes and freshwater/ marine ecosystems.
A VIRTUAL JOURNAL INTO THE UNIVERSE:
http://library.thinkquest.org/28327/?tqskip1=1
Here's a great research site for those studying The Solar System. (Note: Flash needed)
NOVA SCIENCENOW (GR. 9-12)
http://www.pbs.org/nova/sciencenow
The "NOVA scienceNOW" website is newly designed. The site features streaming video of each hour-long broadcast episode, in-depth interactive scientist profiles, downloadable podcasts, a blog of dispatches from the production team in the field, viewer forums, educator materials, and much more, all in a variety of engaging formats.

Odds 'n Sods - March/05
Internet Safety is always a concern these days. An interesting website is the Web Wise Kids. http://www.webwisekids.com/ Update 2019: Webwisekids no longer seems to be active. Try this website instead: (Comparitech comprehensive guide for parents and educators on child internet privacy and safety) https://www.comparitech.com/blog/vpn-privacy/protecting-childrens-privacy/
Excerpt: "Web Wise Kids are a non-profit organization dedicated to ensuring child internet safety by giving tips and advice to parents and children on how to protect themselves from online predators."
Even if you didn't participate in the "The Great Backyard Bird Count" on February 18-21, you may still be wondering how to differentiate between some of those tricky species that frequent our neighbourhood. Learn the difference between types of woodpeckers, various chickadees, sharp-shinned and Cooper's hawks, and get ready for your own bird count! http://www.birdsource.org/gbbc/
A great website to explore bird sounds as well as photos, descriptions, and "cool facts" is the Cornell University of Ornithology "All About Birds" website.
http://www.birds.cornell.edu/programs/AllAboutBirds/BirdGuide/
If you are really looking for something different on the 'Net, why not explore "table manners" around the world! The flash animated quiz takes about 5 minutes to complete.
http://fekids.com/img/kln/flash/DontGrossOutTheWorld.swf
Odds 'n Sods - February/05
http://reachtheworld.org/
Sail with the crew of Makulu II! This ocean expedition invites students to learn from the discoveries of her crew. You can trace the route and read the Ships Logs for up-to-date information about life aboard ship.
This article was written for Canadian Living Magazine's website on the best all-round websites for homework help. Pete MacKay, one of the authors, is creator of <http://www.theteacherlist.ca>.
http://www.canadianliving.ca/CanadianLiving/client/en/today/DetailNewsPrint.asp?idNews=3137
Tsunami websites. Here are a few of the student-level websites available.
http://www2.sd43.bc.ca/Nestor/links/edutopics/forcesofnature/tsunami.htm