Gardening with Children

  Gardening with children can be a most enjoyable and educational activity.  It can sometimes end up as a "garden disaster", so it's wise to plan ahead!  There are some excellent websites to help "first-timer" parents get started and experienced gardeners find some new tips and tricks.
A very special thank you to Mark Kelly of "Yard Care Gurus"who inspired me to revamp my entire "Nature's Classroom" just so I could organize an appropriate section in my TeacherWebshelf to highlight his excellent webpage on Gardening with Kids! He found my old weblinks and hoped I might update them... sadly, now that I have made the space, I can no longer find his webpage online!
Ultimate Beginners Guide To Gardening With Kids
"Few hobbies in life offer such delicious rewards for time and effort as gardening does. Adults find peace, relaxation, and food, but children take significantly more from the work than adults do."

I've searched for this, even on the "Wayback Machine" and it is nowhere to be found! If you see this, Mark Kelly, please get in touch!


Of course YOU know what a wonderful activity "gardening" is,
but if you are needing to convince someone else to get started...
here are 25 incredible benefits of gardening, according to science!
Thanks to Jo at Happy DIY Home for sending along this valuable link!

Back in 2018, I found an excellent website www.kidsgardening.org with a "Parent Primer" for getting started.  The following suggestions were  from this source.
The Benefits of gardening at every age:
The general idea presented here is to simply expose your preschool children to the enjoyment of being in the garden with you.  As reading and math skills grow, check out the seed packages and instructions together.  Find a spot they can call their own to be messy, imaginative, and adventuresome.  By age 8, science, art, math and fun are all involved.  Why not have them learn to design their own garden!
Turning kids on:
If you want them to love gardening, then take time each day to point out how you enjoy having a garden!  Have great garden spots around them (and this doesn't mean "show gardens").  Have good gardening experiences with them.  The writer suggests that some "gardening chores" are  a part of working together as a family but suggests that letting the children focus on the "exciting times", like planting and harvesting, gives them a more positive outlook.  Relax some of your standards as to how the family garden should look and also give them a spot all their own. Doing some "behind the scene" maintenance for them is a worthwhile idea.
Plants kids will love:
Children enjoy extremes!  Big (giant sunflowers), small (cherry tomatoes), fragrant (basil, scented geraniums), bright (rainbow chard), performing (mimosa—that curls up to the touch, snapdragons to "talk"), textured (fuzzy woolly thyme).  There are so many choices!
Safety Issues:
There are many good suggestions, but three points are noted as crucial: Learn about your own garden environment, teach them what is safe and what is not, and always be watchful.
Now in 2020, I find that this website has EXPLODED with information!



There are SO MANY free, and fully explained, activities and lessons on this website! There are gardening basics, scientific information, bird and insect links, social studies themes, grade level lesson plans, arts 'n crafts, and more!

Here's a special one that will definitely interest you if you have this problem... engaging reluctant gardeners!
https://kidsgardening.org/garden-how-to-engaging-reluctant-gardeners/

There is a newsletter, grant programs for schools, books and curricula for purchase. I am SO impressed!

Wow! Make sure you have a nice chunk of free time before you sit down to check out this website!


Gardening with Children
https://learn.eartheasy.com/guides/gardening-with-children/
"How to encourage little hands to plant, water, and grow using
the easiest seeds and the best methods."

There are some tips regarding their "top 10 crops for children" (sunflower, lettuce, radishes, snow peas, cherry tomatoes, nasturtiums, bush beans, carrots, potatoes, pumpkin).

The Kids Garden
http://www.thekidsgarden.co.uk/
"Gardening is a great activity for children and it can be a wonderfully educational one, too.The garden can be a great place to teach your kids a little biology and introduce them to the wonders of the natural world in a way that's fun and likely to spark an interest that will last a lifetime."

As well as gardening tips, this website has a number of learning suggestions.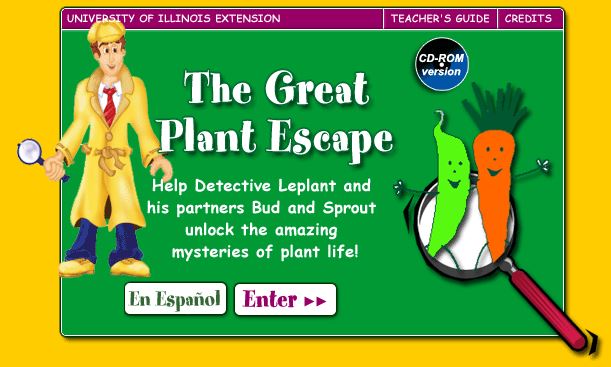 "Welcome to the Great Plant Escape, an elementary program for 4th and 5th grade students.
https://web.extension.illinois.edu/gpe/index.cfm
Each of the lessons in this program is interdisciplinary, designed to introduce students to plant science and increase their understanding of how foods grow. Activities enhance student's math, science, language arts, social studies, music and art."

Plants for Kids
http://www.sciencekids.co.nz/plants.html
"Learn about the fascinating world of plants for kids with our range of fun experiments, free games, science fair projects, interesting quizzes, amazing facts, cool videos and more!"

Gardening With Kids
https://dengarden.com/gardening/Gardening-With-Kids-Fun-Plants-and-Ideas-for-Children
This website had some good, tested ideas. Suggested flowers to plant were: Zinnias, marigolds, daisies, sunflowers, bachelors buttons, snapdragons; suggested bulbs were: daffodils, tulips, irises, crocuses; herbs were: lemon balm, basil, chamomile, catnip, cilantro; edible plants include: corn, tomatoes, watermelons, cucumbers, squash, pumpkins, carrots, beans, potatoes, peas, strawberries.
One of the creators of DIY-Gardening UK "explores the topic of sensory gardens, what they are, how to create them, ideas, inspiration and so forth. (Her autistic) nephew's school built a "sensory" garden for the pupils and feedback from the teachers has been very positive."

Back to Nature's Classroom index
This page created March 2020, updated May 2022.